How to Borrow Crypto with no Collateral? A Step-by-Step Guide (2022)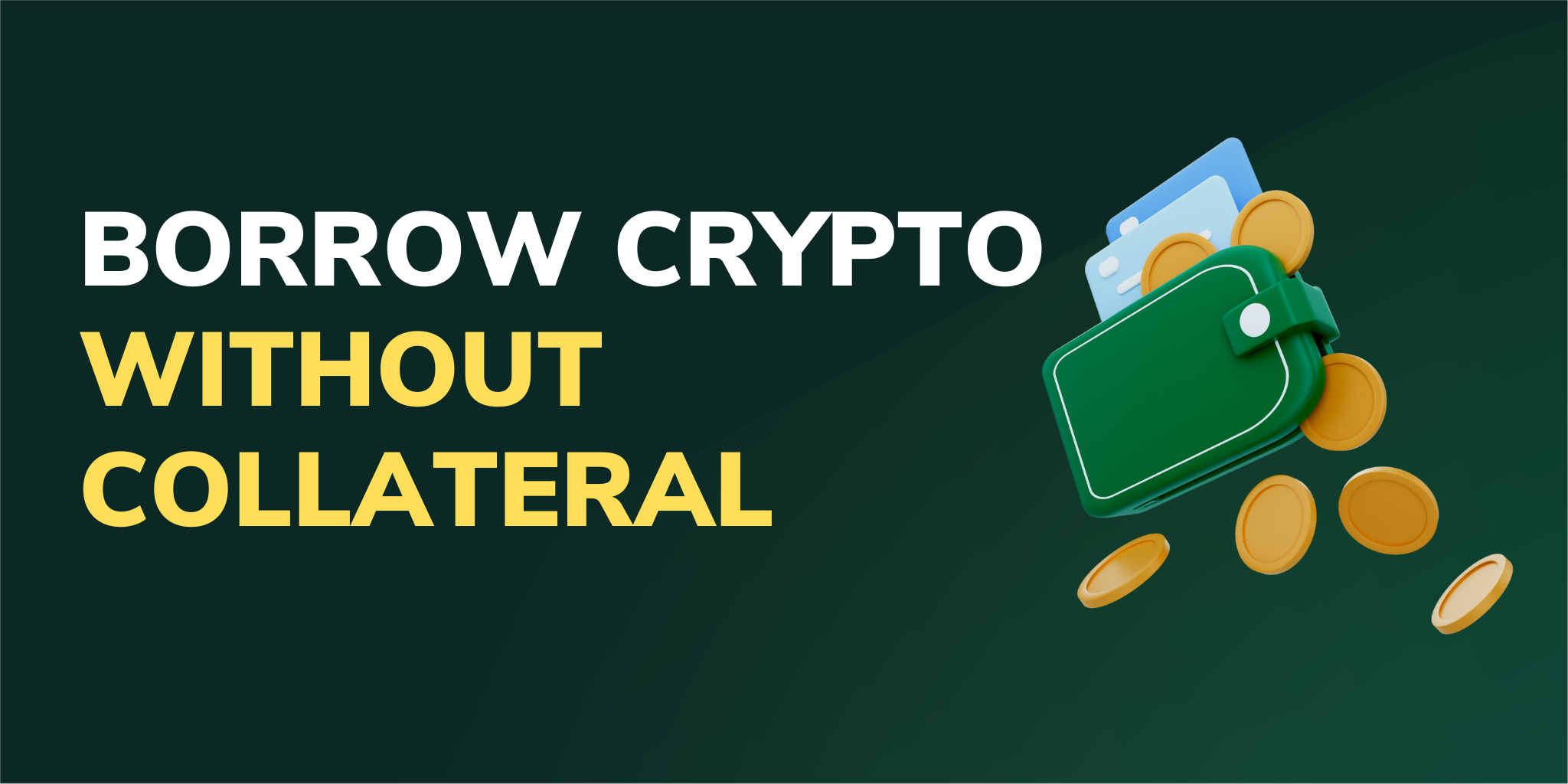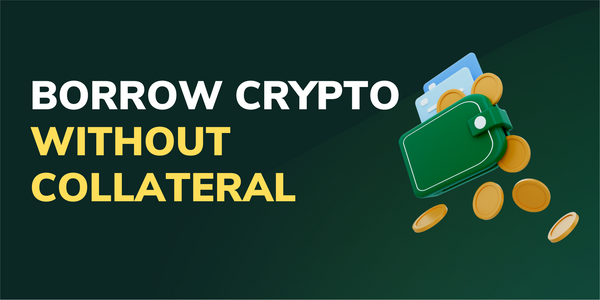 Are you looking for a crypto-backed loan to open a new crypto position or to buy real estate or NFTs? Are you tired of the current credit checks and score checks system for availing a loan in the traditional financial market? Do you want a crypto loan but do not know where or how to start? If you answered yes to any of these questions, you are at the right place. Cryptocurrency-backed loans are revolutionizing the global financial space in different ways. If you are one of the early adopters of crypto and have a substantial portfolio of crypto assets, borrowing against them as collateral paves a new avenue for investors to convert their crypto investments into real-life investments.
Most platforms that provide crypto loan services ensure that the borrower is depositing sufficient collateral before getting their loan approved. Although, there are platforms like Teller that are helping investors to get crypto loans without collateral. This is expanding the DeFi lending space to a wide range of investors and nurturing the development of a more open finance ecosystem.
Above all, the interest rates on crypto are more lucrative (for lenders) and competitive (for borrowers) than those offered by the traditional banking sector. Lenders can lend their crypto assets without losing a position and make their idle assets work to earn passive income are also making the most out of this new revolutionizing sector. Getting a crypto loan is way faster than getting a traditional one and makes your life easier. However,
Before we head to that part, let us clearly understand what an uncollateralized crypto loan is, the factors one must keep in mind while choosing a lending and borrowing platform, and a step-by-step guide to getting a crypto loan without any collateral.
What is a Zero Collateral Crypto loan?

Uncollateralized or Zero-collateral crypto loans are loans that do not require the borrower to deposit any asset, such as their cryptocurrencies or non-fungible tokens (NFTs), as collateral against the loan borrowed.
In a traditional banking system, a borrower is asked to provide something equivalently valuable to the bank as a means of security in case he or she fails to pay the interest and the principal loan amount back. The simplest example of this system can be mortgaged homes. In this case, the house itself behaves as collateral for the lender. The borrower is expected to pay back the loan in installments (that includes the interest amount) to keep his collateral safe.
Read- The Ultimate Guide to Zero Collateral Crypto loan.
However, in the case of crypto loans, it is based on the amount or value of crypto owned by the borrower. The borrowers must set up an account on a platform providing crypto loans; all they need to do is connect their wallets to the same. While few platforms provide crypto loans with collaterals, platforms like Teller are one of the pioneering companies providing crypto loans without collateral. Users can start just by connecting the wallets to the platforms and start requesting loans.
Did you know you can now also get crypto mortgages without any collateral?
Additional Read:  Crypto Mortgages: How to Buy a House using cryptocurrencies.
Factors to Consider before taking a crypto loan
Before you decide on availing of any type of loan, be it crypto or non-crypto, thorough research is important. Just as you read and research about the banks before availing of a loan, you must be very careful about the platform you choose to avail of your crypto loan. Every day numerous platforms spring up in the market, promising different perks, but not every platform should be trusted. There is a list of certain factors that you must keep in mind while choosing these platforms.
Interest Rates Provided
Fee
Community Reviews
Security & Flexibility
Limitations
Interest Rates and Duration - Interest rates are one of the most pressing factors when choosing a crypto lending and borrowing platform. Compare multiple platforms and choose the one that meets your requirements. Lenders often require a greater lending rate to generate passive income from their crypto holdings. However, if you are a borrower, go for only those interest rates that are feasible enough for you.
Fee- You must compare the fees charged by the platform with a few others. Since the uncollateralized crypto loan sector is new and very few users know about zero collateral crypto loans, many platforms tend to keep high fees due to the high risks involved.
Additional Read: Teller Vs. Aave
Community Reviews: Read past users' feedback and previous borrowers' experience to conduct due diligence on the authenticity of the platform and every other information available. Reddit, Twitter, forums, Telegram, and Discord are some of the best community-focused channels that provide tremendous information on a platform's functioning. A platform backed by a strong community indicates its authenticity in a market full of counterfeits.
Choose platforms that have been on the news for their partnerships or other achievements because they act as a medium of credibility. Platforms like Teller are one of the best-suited examples of this. Teller collaborated with Chainlink to build the undercollateralized lending platform. Roofstock also leveraged the Teller protocol to enable the financing of tokenized real estate properties.
Security - Nothing comes above security and should be your prime concern. If you are a lender, this becomes more relevant in the case of an uncollateralized crypto-lending platform. You should research the security protocols followed by the platform and the actions taken by the platform to ensure its security from cyberattacks and hacks.
For a detailed overview of factors to remember how to choose a lending and borrowing protocol, read here.
Step-by-step guide: How to Borrow crypto with no collateral
Here we shall walk you through how to avail of a zero-collateralized crypto loan using the Teller protocol. For reference, we have chosen the Twitter Lending pool. You can follow the same steps to join any financial pool available on Teller and begin your lending and borrowing journey.
This pool is for those borrowers who use their Twitter profiles to request funds. Lenders can perform their underwriting on every individual borrower basis their social profile on Twitter and on-chain wallet history.
Step 1: Open app.teller.org and search for the Twitter pool. You can directly use https://app.teller.org/polygon/market/25

Step 2:  Click on 'Go to market' and connect your wallet.
Step 3: Click on 'Borrow from market' to request a loan. You also need to fill up the terms that you would want on your loan request page.

Once the terms are filled, click on the "Borrow" button.
For the lenders to verify your loan request, you must fill in the Fund field section with your public Twitter profile.
Once the "Borrow" transaction is confirmed, it shall appear under the "Loan Requests" tab.
Step 4: Once this is done, you can tweet about your crypto loan request, which then shall be filled by your community by clicking on the "Lend" button.
Step 5: The outstanding loan can be repaid by simply going to the borrower profile and repaying them.
Conclusion
That was all that you would ever need to begin your lending and borrowing journey in the crypto space. DeFi loans without collaterals are revolutionizing the debt market and potentially bringing the entire lending and borrowing industry on the blockchain. However, while these systems seem very lucrative and amazing, you must do your due diligence before choosing any platform. This step-by-step guide on how to borrow a crypto loan without any collateral will hopefully serve the purpose you came looking for in the first place.
Stay updated with the latest news and developments around the crypto loan space with Teller. Join its discord and other channels for more such information.